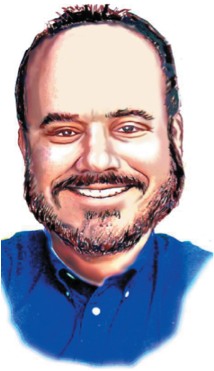 Investor, board member, team-builder, resource and deal-guy.  Introductions and strategic relationships for fast-growth tech companies.
Rick Gibson has had a 40-year career building businesses, founded and co-founded several successful technology companies and advised over (75) others. Rick has reviewed 1000+ companies and mentored hundreds. He is 62-years old. Since 1999, Rick has served as Managing Director of HOTventures, a "mentor capital fund" for the Southwest U.S., which invests in and advises fast-growth companies, in domains as diverse as Ballistic Armor to Agriculture, including Information Technology, Healthcare, Sustainability and Media. As an investor and entrepreneurial activist, he's immersed in early-stage growth companies… finding them and making them great. Rick's been involved with several companies that've had liquidity events. Rick has raised tens of millions of dollars. Since 1996, he's been a key player in several "mentor-driven accelerators" including Idealab, the world's leading tech incubator in the 1990's. Rick served as expert witness for technology business cases. He was one of the creators of Tallwave's Venture Blueprint™ a start-up curriculum for entrepreneurs. Rick is a Venture Partner for GSV Sustainability Partners, which funds large commercial infrastructure projects, in which they share the savings with the client on energy, water and fuel. He is a columnist for Inc.com 
Rick has been an investor, advisor or board member in: AgriTrak, Avisere, Beamz, The Book Patch, Bourque Industries, BrightGuest, Clear2there, CopperKey, DarkPulse, Decon7, EquiSight, Flypaper, Funding Universe (now Lendio), Imagenomics, Iveda Solutions, LabTrack, LifeBot, Medipacs, MedSphere, Mobile Authentication Corp (MAC), MojoVideo, MSDx, NetWorth, NuvoMed, Octopi, Real Time Companies, Sokikom, StrongWatch, World Wide Wheat and Zero Waste Wines. He has been a limited partner in Solstice Capital II (one of the largest venture capital funds in Arizona) and is an early shareholder in Bill Gross' Idealab.
In Tucson, for many years Rick served on the Executive Board and Screening Committee of the Desert Angels, and is Mentor-Emeritus for UA's Arizona Center for Innovation (AZCI) and was Adjunct Instructor for UA's Eller School Entrepreneurship Program, and on UA's MBA Advisory Council.
In Phoenix, was on the board of ASU's Technopolis, Entrepreneur-in-Residence, Instructor for LaunchPad/LaunchPrep entrepreneurship programs, and ASU TechBA mentor, coaching companies from Mexico. He is on the Management Committee and Selection Panel for Invest Southwest Capital Conference's Venture Madness. He was judge for ASU's Edson Entrepreneur Initiative, creator of "Entrepreneur's Resource Guide" for bizAZ magazine and member of Philanthropic Council of Banner Alzheimer's Foundation. Rick continues as a judge for the AZ Commerce Authority's 'Arizona Innovation Challenge' and on the Venture Ready Panel.
In Flagstaff, Rick is on Executive Board and Treasurer of NACET incubator (Northern Arizona Center for Emerging Technologies) and also a mentor. NACET also oversees Maricopa Center for Entrepreneurship.
Elsewhere, Rick has been judge for Ernst & Young's Entrepreneur of the Year Awards, and on Angel Capital Association's National Collaboration Committee and was guest instructor for Power of Angel Investing seminar. Rick is often a Mentor and Panelist for FundingPost.
Rick was an early shareholder in Bill Gross' Idealab and founded one of its first companies, E-Ticket Inc, which merged with Nederlander Organization's RealTime Syndication Network to become FeatureCast Inc. Rick served as Vice-Chairman. FeatureCast secured online license for and executive-produced: Fox's America's Most Wanted, Teen Magazine and National Enquirer. Rick participated in strategic planning with the ten original Idealab CEOs. Idealab created several well-known technology companies including: Overture (acquired by Yahoo for $1.6B), United Online (was NetZero and Juno), Aptera, Internet Brands, CitySearch, Energy Innovations, eSolar, Desktop Factory, Picasa, Tickets.com, eToys and Evolution Robotics. [See http://idealab.com]. 1998-2000, Rick was an advisor to the board of directors of Petersen Publishing, producers of 100+ magazines like Motor Trend, Hot Rod and Teen.
Rick co-founded GNP Development Corp and in 1986 they sold it to Lotus Development Corp for $10 million. In 1991, they co-founded Knowledge Adventure Inc, which in 1996 they sold to Cendant for $100 million. Knowledge Adventure became the world's largest children's CD-ROM edutainment software company (almost $400 million in annual revenues), owned by Universal Studios, known for 'JumpStart' (20 million units sold) and 'Blaster' series.
1986-1991, Rick consulted to software companies including Ashton-Tate, Que Software/Macmillan and SPSS Inc, and arranged sales of technology to Symantec, Microlytics and Paramount Publishing. Rick directed a division of Ashton-Tate and was Chairman of 4-5-6 WORLD. Earlier, Rick directed national sales/marketing and helped start or re-start: Fisher Corp, KLH, Ultralinear and Androbot Inc (personal robot start-up by Nolan Bushnell, who founded Atari and Chuck E Cheese). Rick began his career as one of the first store managers for The GAP Inc, which has 3,200 stores worldwide including Old Navy and Banana Republic.